I have been looking forward to writing this spotlight since the start of the Craft Pimp artist spotlight project. All week various things have happened including the blogger upgrade blip and a whole evening down at A&E with my eldest (don't worry folks, it turned out to be nothing serious after all).
It's almost the end of the week and I can finally sit down with a mug of coffee and surf about the net looking at Mel's beautiful creations. Mel and I have a fetish in common for winged things. This intricate enamelled six piece topper is my current favourite piece in Mel's brand new Etsy store called
>Inkydoodlecrafts
These seaside scenes are rather gorgeous too and would look lovely in tiny driftwood frames. You can also find pretty toppers from Mel at
>Inkydoodlecrafts on Ebay
.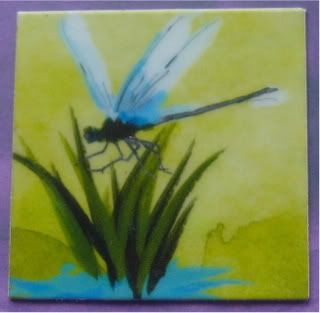 Mel is moving in the exciting direction of using her own original designs exclusively throughout her product range and I have been lucky enough to see her first original topper up close, you can read more about
the birth of a dragonfly
on Mel's own blog. When I think about Mel and her work and creative spark I can imagine such bright things in the future, demoing to packed crowds at the NEC or pitching products and original artwork to the buyers for Ideal World. I have this lovely feeling that I will get to say one day that I knew her before she was famous.
Jolene x